Best Employee Recognition Programs of 2022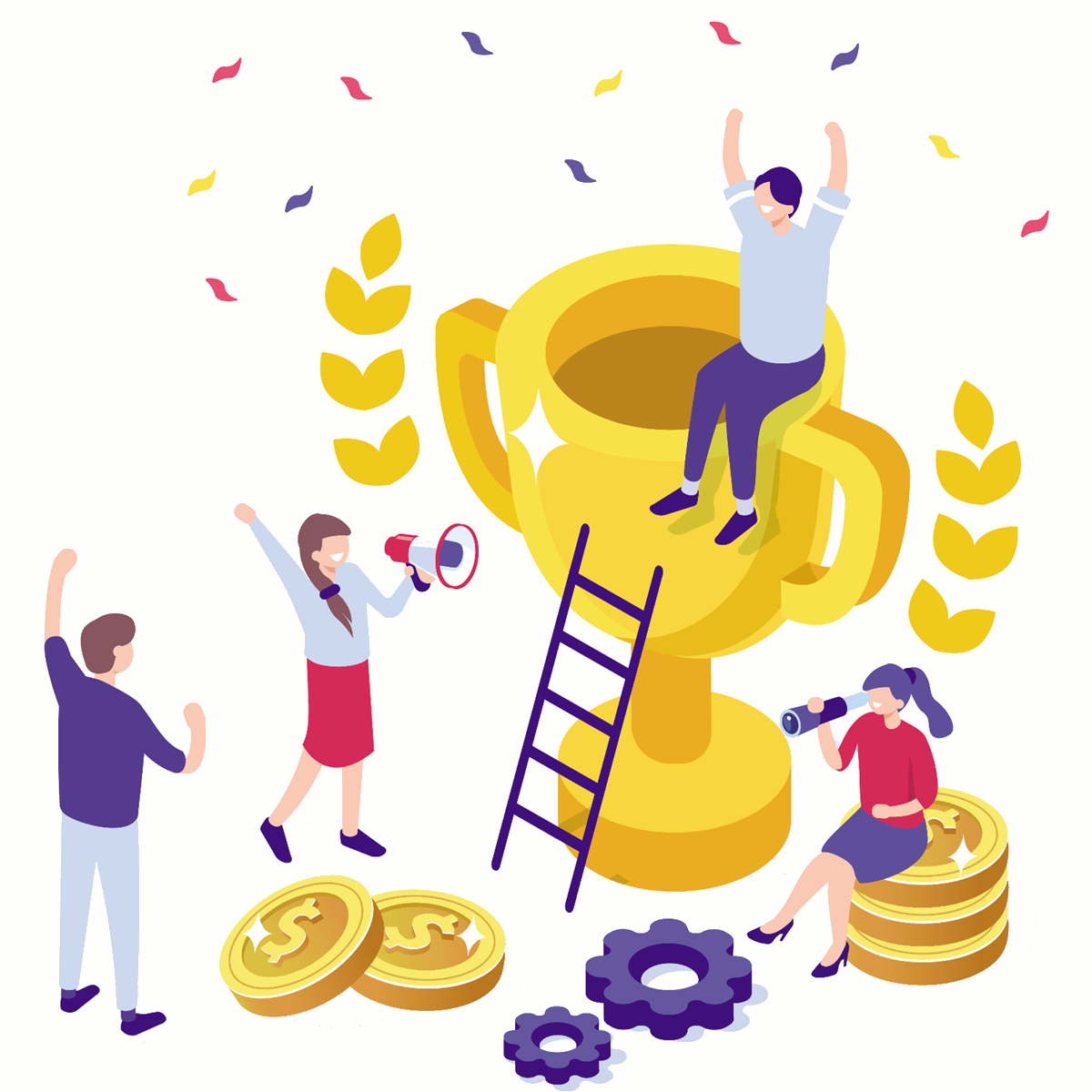 Katya Hill
Director of Marketing

May 09, 2022
What is employee recognition, and why is it important?
Employee recognition is an internal program showing appreciation and recognition for employees' performance and work. It is usually tied to rewards that one can get once their company or organization recognizes them.
What comes to mind when you hear the words' employee recognition'? A dull 'thank-you' slide with its name at the company yearly kick-off? Is it a note in your annual review? Employee recognition is not, and should not, only mean an annual bonus or an occasional generic 'good job' from your boss.
Employee recognition is often viewed as a nice to have perk rather than a foundational retention and loyalty tool. People might take the job for the money/opportunity/title, but they stick around because they are valued. The link between employee engagement and retention is well established. Employees who are highly engaged are 87% less likely to leave an employer.
How do you develop an employee recognition program?
This is where employee recognition software comes in! There are plenty of employee recognition tools that are designed to empower teammates to show appreciation for others. For example, finding a solution that is easy to integrate into the existing workflow, fun and engaging for the employees, and drives long-term results is key. Here are some things to consider when looking for recognition software for your organization:
Do you have an existing culture of peer-to-peer recognition?
Do employees and managers publicly recognize or celebrate each other currently, and how often?
What are the current engagement and communication tools?
How will you be able to show the impact of the recognition program?
To help evaluate the employee recognition and engagement market options, we compiled a list of some of our favorite tools that could be an excellent fit for your organization based on your goals and budget.
Assembly is a fully customizable employee recognition and rewards software designed to drive productivity, employee engagement, and retention while boosting internal culture. You can power team appreciation at scale and grow employee loyalty with easy-to-implement tools. Assembly provides actionable insights to measure how engaged employees are and whether they are aligned with the company values. Assembly works great for teams of all sizes and is FREE for up to 10 users.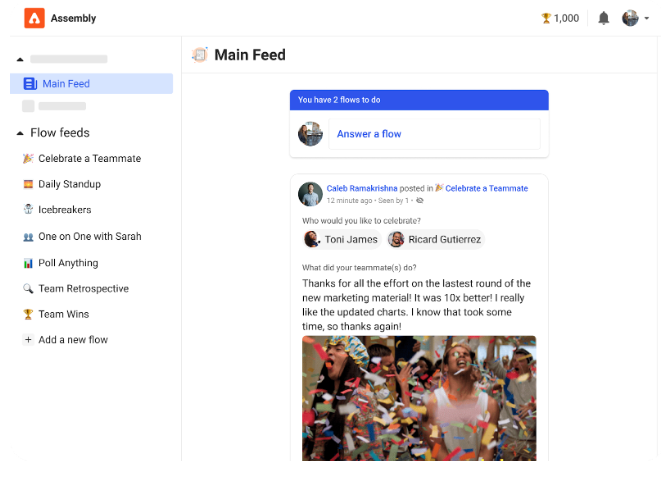 Assembly Notable Perks
An extensive catalog of rewards with gift cards, custom swag, culture rewards, and charity donations
Powerful additional engagement features such as 1:1's, surveys, games and icebreakers, employee nominations, and more (all of which are included in the cost of the platform)
Automated birthday and anniversary celebrations
Seamless integration into Slack and Microsoft teams as well as 40+ Hris integrations (ADP, BambooHR, Ceridian, Workday, Zenefits, Rippling, UKG, and many more)
O.C. Tanner is a carefully tailored employee recognition tool for large organizations and enterprises. It is currently serving thousands of large companies to develop strategic employee recognition and reward solutions. The O.C.Tanner Culture Cloud provides a suite of apps and solutions that help comment on employees and showcase their accomplishments.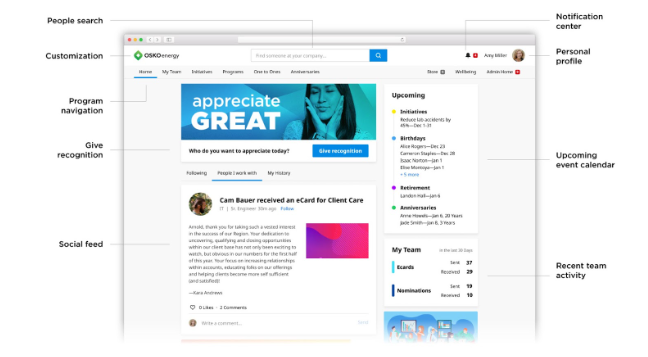 O.C. Tanner Notable Perks
Culture Cloud Recognition mobile app 
Fun and unique rewards like adventures, cool tech, concerts, and events 
Create a Yearbook for each employee for a special occasion
Preciate utilizes Culture Nirvana,™ a mix between cognitive and emotional culture setups. They are focused on assisting companies in finding and optimizing any cultural difficulties that might be present in the workplace. Preciate indeed emphasizes the need and value of the holistic, authentic, and healthy cultures at work.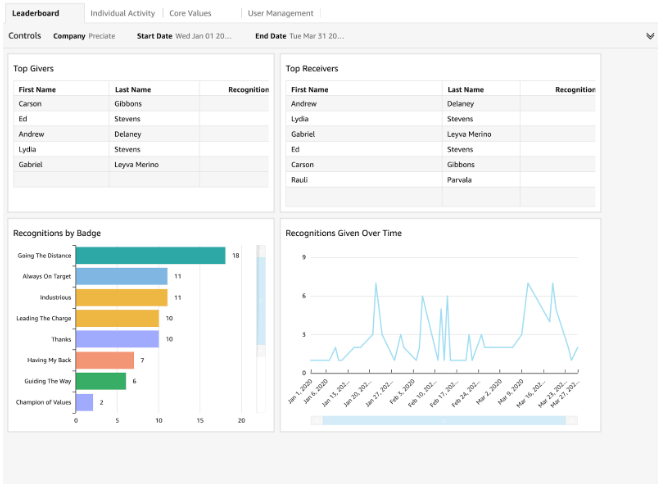 Preciate Notable Perks
A catalog of badges, stickers, and awards to utilize 
Employee recognition is personal and shareable with portraits feature
Access for customers and applicants to see the Activity feeds 
AwardCo is a superb solution that is based on the Amazon Business partnership. They work with Amazon to bring millions of reward choices so that your employees are guaranteed to find something they like. It is simple to set up and offers an easy way to receive rewards with great redemption options.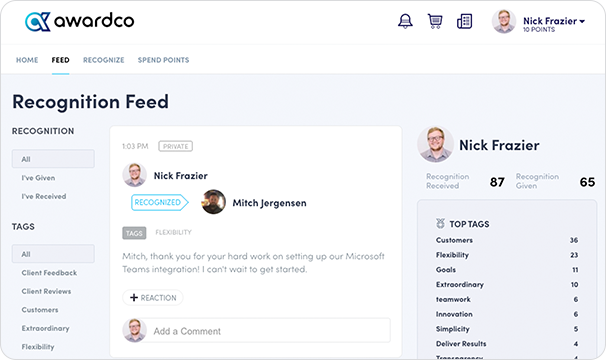 AwardCo Notable Perks
Amazon Business partnership - access to Amazon gift cards 
Simple and easy to use layout and software 
Promotes internal recognition and celebration 
Motivosity is designed to help the employees recognize and appreciate what they do, make them feel connected to their manager, and create a workplace community. Motivosity makes it easy to reward employees and team members for the extra efforts that they have shown.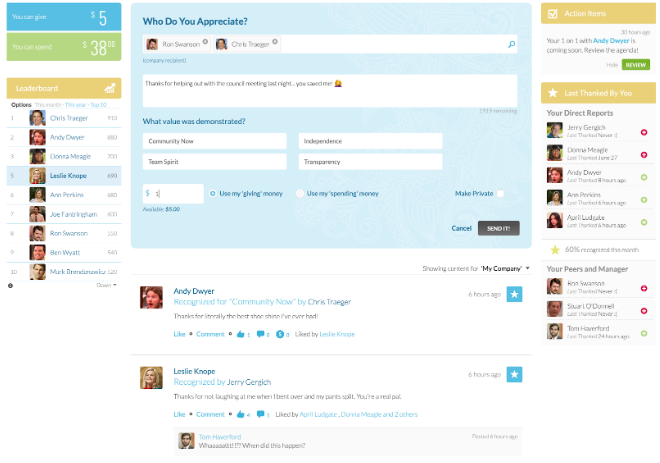 Motivosity Notable Perks
Insights page with an overview of metrics and engagement 
Company-wide leaderboard to see how employees stack up against peers 
Option to make recognition public or private 
HeyTaco is an easy-to-use Slack integration focused on verbal recognition and acts of kindness for employees. The idea is that all your employees use the taco icon as a universal way of showing appreciation and kudos for a job well done. There is no limit on the number of 'tacos' employees can give out, so it encourages ongoing recognition and support.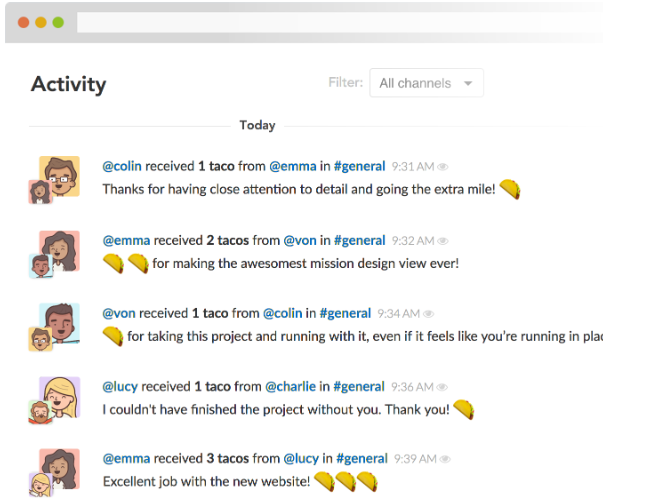 Hey Taco! Notable Perks
No limit on the number of Tacos team members can give out 
Ability to unlock feature spotlights extra-special achievement
Team rewards allow for a way to turn tacos in for a special reward 
Achievers is an Employee Success Platform centered around aligning employees with business objectives and company values through recognition and rewards. It offers an easy way to rack up points and exchange them for fun and exciting gifts. Managers can measure employee engagement and need to optimize their efforts.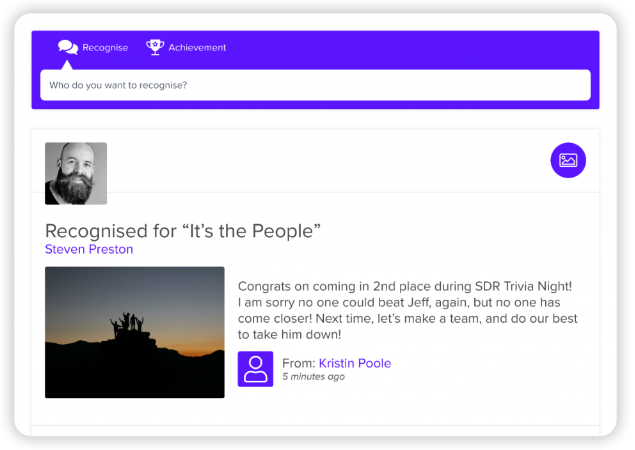 Achievers Notable Perks
Science and data-backed Recognize™technology
Internal visibility, insights, and guidance through the listening tools 
The extensive international marketplace for reward redemption 
Kazoo is a work hub that is focused on cultural creations regardless of the employee location. It allows companies to combine goals and OKRs, feedback, and conversations, and receive recognition along the way. This visible progress motivates employees to grow and develop. 
Why we love it: It makes continuous feedback and continuous improvement part of day-to-day work—not something restricted to performance reviews.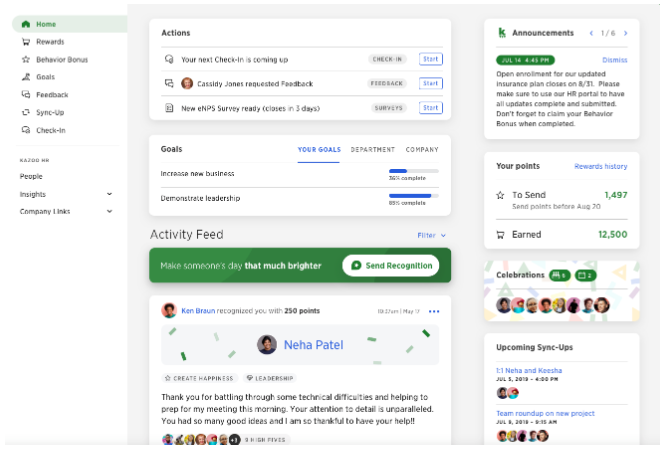 Kazoo Notable Perks:
Easy way to track ongoing feedback and conversations
Pulse surveys for managers to make smarter decisions
360 Reviews and historical data
Nectar is a 360 recognition and rewards platform that allows employees to send meaningful recognition based on the company's core values. Nectar helps streamline incentives and maintain a connected culture regardless of whether your workforce is centralized or distributed. A great solution for small teams everywhere.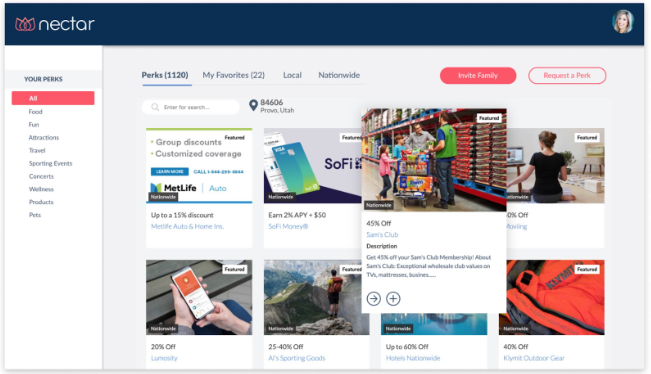 Nectar Notable Perks
Integrations with Slack, Microsoft Teams, and HRIS software  
Custom swag options that are shipped directly to the employee 
Incorporate wellness initiatives or challenges that reward employees for participation
Bucketlist makes it easy for employees and managers to recognize and reward one another for milestones, achievements, and outstanding performance. With interactive ways to make recognition fun - like GIFs and emojis-  Bucketlist allows for continuous recognition.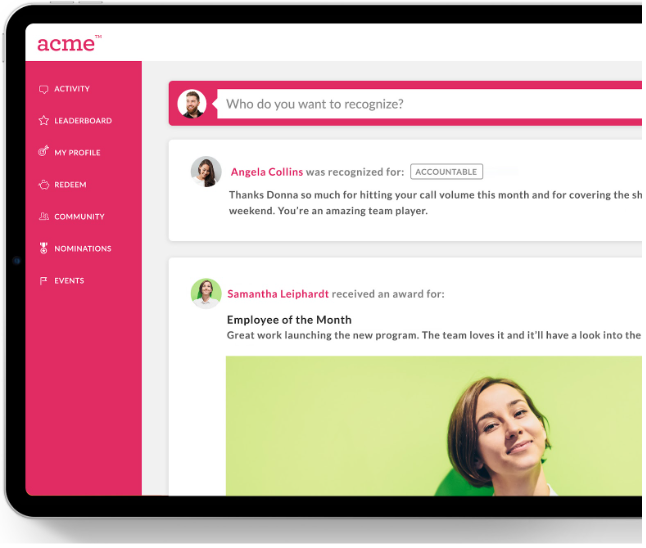 Bucketlist Notable Perks
Easy to use and navigate interface 
Tangible rewards that make it interesting to go an extra mile 
An internal leaderboard that sparks healthy competition 
---
Conclusion
Try Our Free Tool
Automate routine workflows like employee recognition, 1:1s, daily standup & more - to save time!
Browse our Free Employee Recognition Guide
Get the foundational knowledge on creating an employee recognition program that boosts employee engagement and helps them feel valued.
Explore Guide