Top 10 Best Daily Standup Tools & Software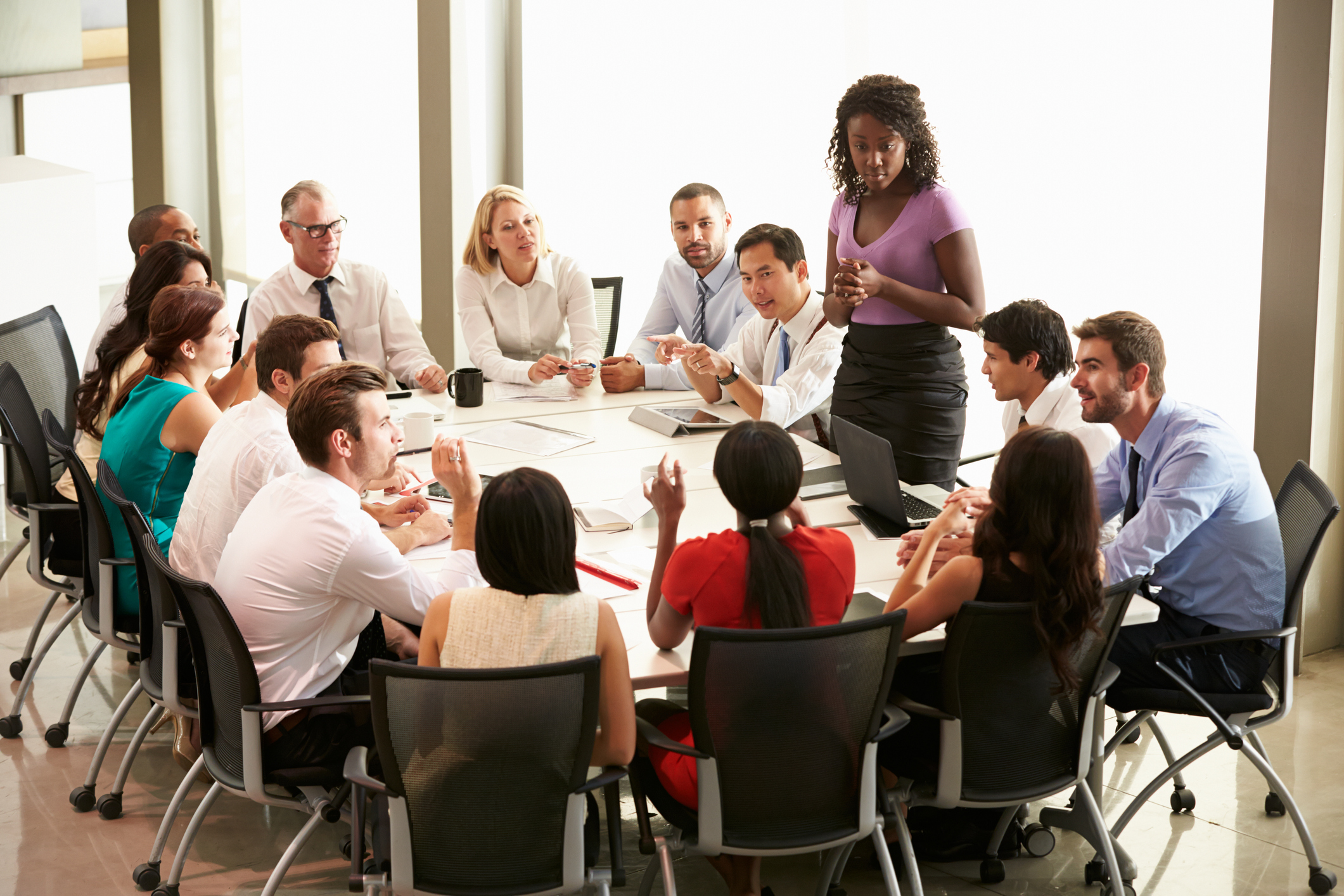 Katya Hill
Director of Marketing

May 26, 2022
As professionals, we know that a daily standup is an essential part of our workday. But what tools and software can make our stand-ups more effective and efficient?
Don't worry – in this list, you'll discover the best daily standup tools and programs. We guarantee you'll find something that meets your needs and improves your meetings.
Why It's Important to Have a StandUp Routine
It's important to use daily standup meetings in order to improve communication and collaboration within a team. Standup meetings are a great way to keep up with what's going on with each other's work. In addition, they can help prevent misunderstandings and miscommunication.
Using daily standup tools and software can also help improve productivity. By having all of the relevant information in one place, team members can avoid wasting time searching for it. They can also more easily track their own progress and understand where their efforts should be focused.
Assembly Insights | How to get the most out of your Daily Standup
Finally, using daily standup tools and software can help create a sense of accountability within a team. When everyone is aware of what everyone else is working on, it's easier to hold each other accountable for results.
The Top 10 Tools and Software for Standup Meetings
Now that you understand why standup tools and software are a necessity for optimum productivity, here are our picks for the top 10. Your new favorite is waiting for you below!
Assembly is a standup app designed to help team members quickly and easily track the progress of their projects. By providing a simple interface for managing tasks and tracking project progress, Assembly makes it easy to stay on top of your work while ensuring that you are making the most efficient use of your time.
Assembly - Standup Meeting Template
In addition, Assembly can also help teams to communicate more effectively by providing a central place where team members can post updates and comments.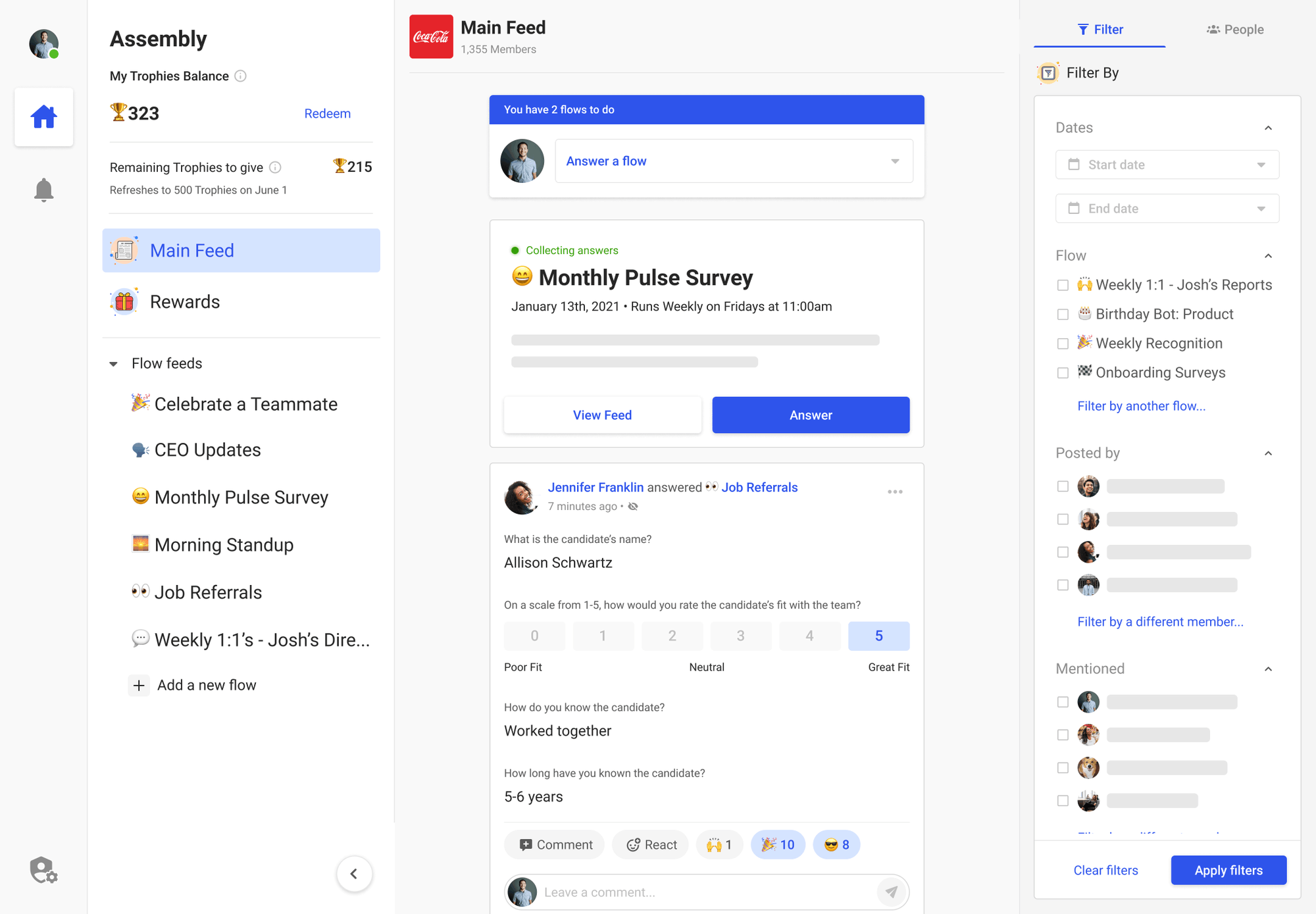 Assembly Pros
Assembly is easy to use, especially for organizations that already use Microsoft Teams to communicate.
For entrepreneurs, Assembly offers a wide range of app integrations at a reasonable price point.
Assembly's customer service is quite helpful and provides prompt responses.
Assembly Cons
Due to Assembly's feature-rich platform, it might be a little overwhelming at first to start out.
Pricing
Starter: This package is free for ten team members.
Lite (up to 50 members): $3.50 billed monthly or $33.60 annually.
Standard (unlimited access): $6.50 billed monthly or $54 annually.
Premium (unlimited access): prices based on customization to meet your needs.
Range is an excellent tool for teams to keep connected without having to spend all of their time in meetings or composing emails. Range allows team members to exchange check-ins as a means of communicating asynchronously about what is going on in their lives on a daily basis.
Because of this, it's simple for everyone to remain on top of what's going on without having to continually check in with one another.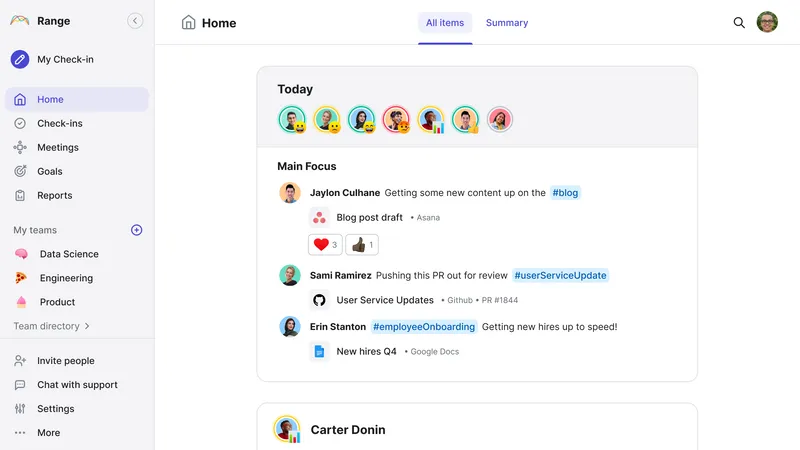 Range Pros
Range promotes team culture and progress, as well as cohesion and collaboration.
It allows team members to keep each other informed about their daily priorities, and they can check in straight from Slack or Range.
Range Cons
Sometimes the GitHub, JIRA, and Google Calendar connections provide questionable recommendations.
It's still a little tricky to figure out how to make goals.
Pricing
Free (up to 20 users):

basic products available for up to three teams

Standard: $8 per user/month. Unlimited teams and more features.
Premium (recommended for 100+ users): pricing is based on customized products selected.
When it comes to repetitive and mundane duties, Geekbot is a useful tool that may save you time and effort. It can be used for a variety of tasks such as daily standups, surveys, response collection, and pushing updates to Slack or Microsoft Teams channels.
One of the most appealing aspects of Geekbot is that it communicates in plain English, so you don't need any programming knowledge to utilize it. Also included are features like vacation mode, rapid replies, chat history, and anonymous polls to make your experience even better.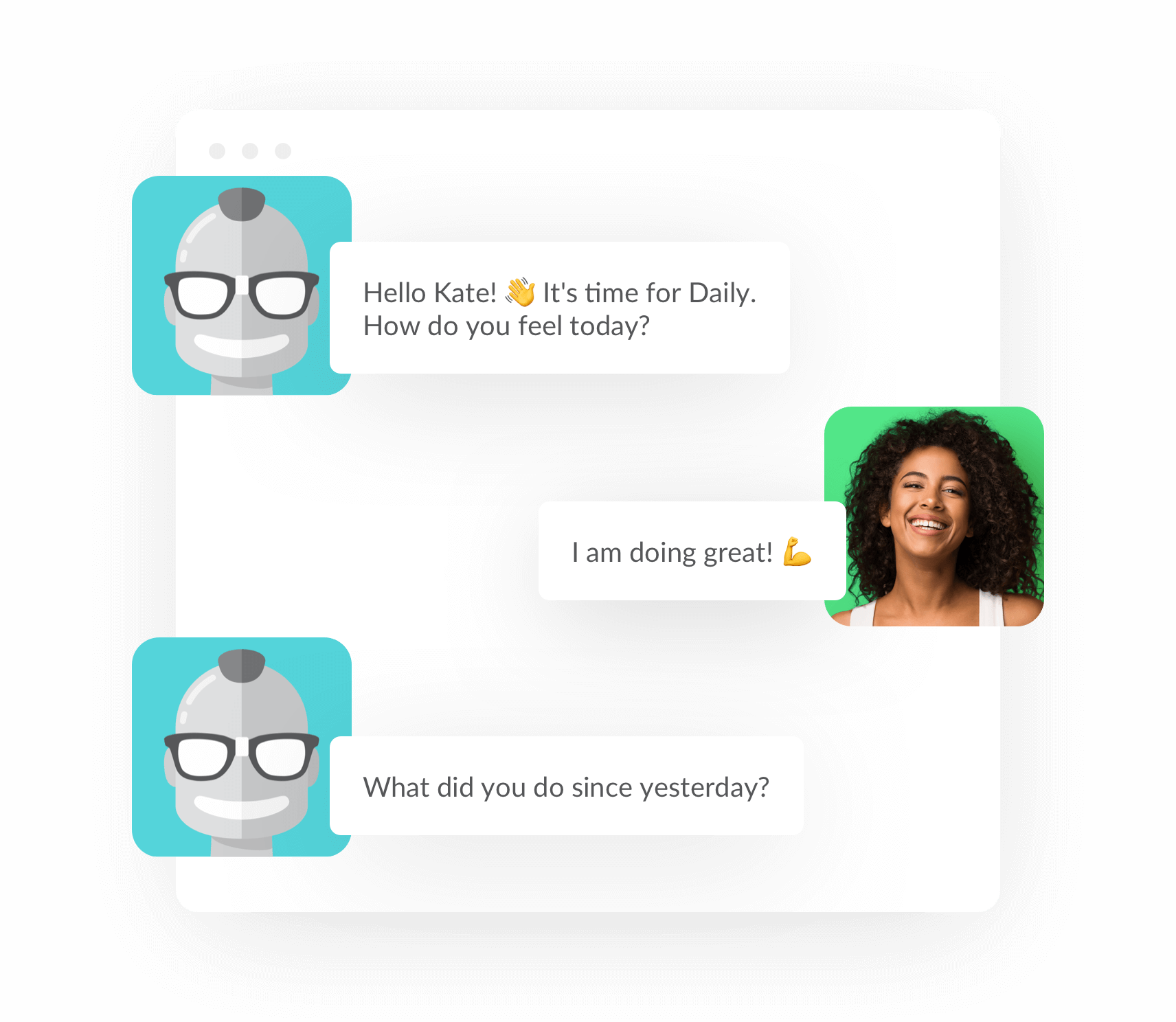 Geekbot Pros
The UI is extremely user-friendly, and the onboarding/setup process is streamlined and straightforward.
Geekbot promotes the morale and productivity of the entire team. It allows you to check in on a daily and weekly basis, ensuring that you're participating at a high level.
Geekbot Cons
Every member of the channel can observe who hasn't engaged with Geekbot.
In some cases, it does not start the daily meeting at the time specified.
Pricing
Start-up (Free for up to 10 members): Basic features.
Scale-up: $2.50 per user/month. More extensive features
Enterprise: customized pricing based on selected features.
Flowist helps you and your team work together better. Designed for remote collaboration, everyone checks in with each other every day, including making announcements and sharing accomplishments. This allows you to see how your entire team is performing at a glance and makes you feel more connected to your team.
Flowist Pros
Flowist Can be accessed from your phone or other mobile device.
Flowist helps team members stay organized and on track.
Flowist Cons
It may take some time to learn how to use the app.
Full Slack integration is not yet available.
Pricing
Basic (up to 3 members): $5/month
Pro (up to 5 teams/20 members): $15/month
Business (up to 10 teams/50 members): $35/month
With Hypercontext, your team's communication and cooperation will be streamlined. It has an easy-to-use integration with popular programs like Slack and Microsoft Teams.
It also allows managers and employees to collaborate in a single location, making it simple to keep track of team meetings and one-on-ones.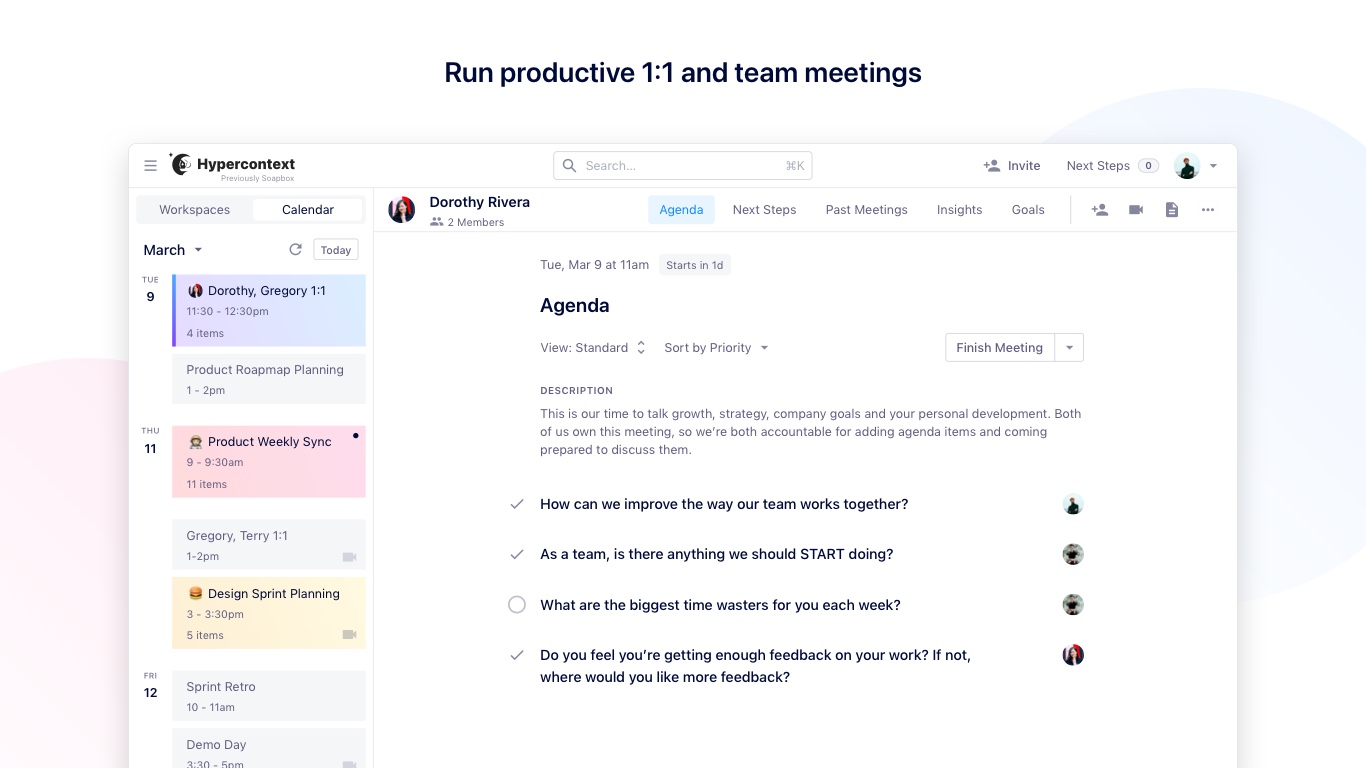 Hypercontext Pros
The platform is super easy to use and helps prompt the user to create agendas that get better over time.
It helps keep team members focused and follow up on items that might have been missed.
Hypercontext Cons
Hypercontext's user interface can be difficult to navigate.
There are occasions when the phone app has problems. It is possible that comments entered via the app will not always be synced.
Pricing
Basic: Free with limited functions.
Pro: $7 /month or $67.29 annually
Business: $11/month or $105.60 annually
ScrumGenius prides itself in its easy integration into Slack, Microsoft Teams, and Cisco Webex Teams. You can even create asynchronous standup meetings over email. Users appreciate the straightforward platform and say it saves their teams a lot of time.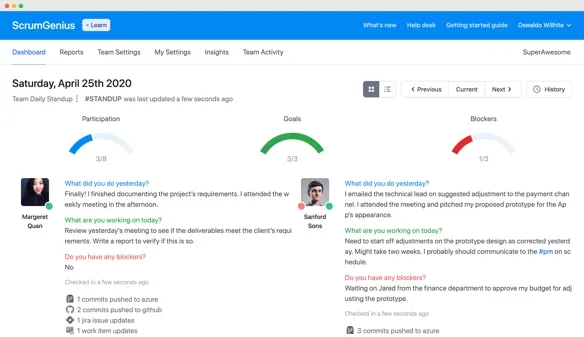 ScrumGenius Pros
ScrumGenius is easy to use and navigate.
It saves a lot of time throughout the course of the week.
ScrumGenius Cons
Customizing questions and analytics is somewhat limited and tricky.
The dashboard could be more expansive.
Pricing
There are three subscription plans available, with each tier offering more broad-ranged features.
Basic: $3 a month/user or $30 annually
Team: $5 a month/user
Business: $7 a month/user
15Five gives HR leaders the tools they need to take a strategic role in the growth of their company. HR leaders can use 15Five to combine engagement, performance, and OKRs on one platform, allowing them to make informed decisions and take strategic action.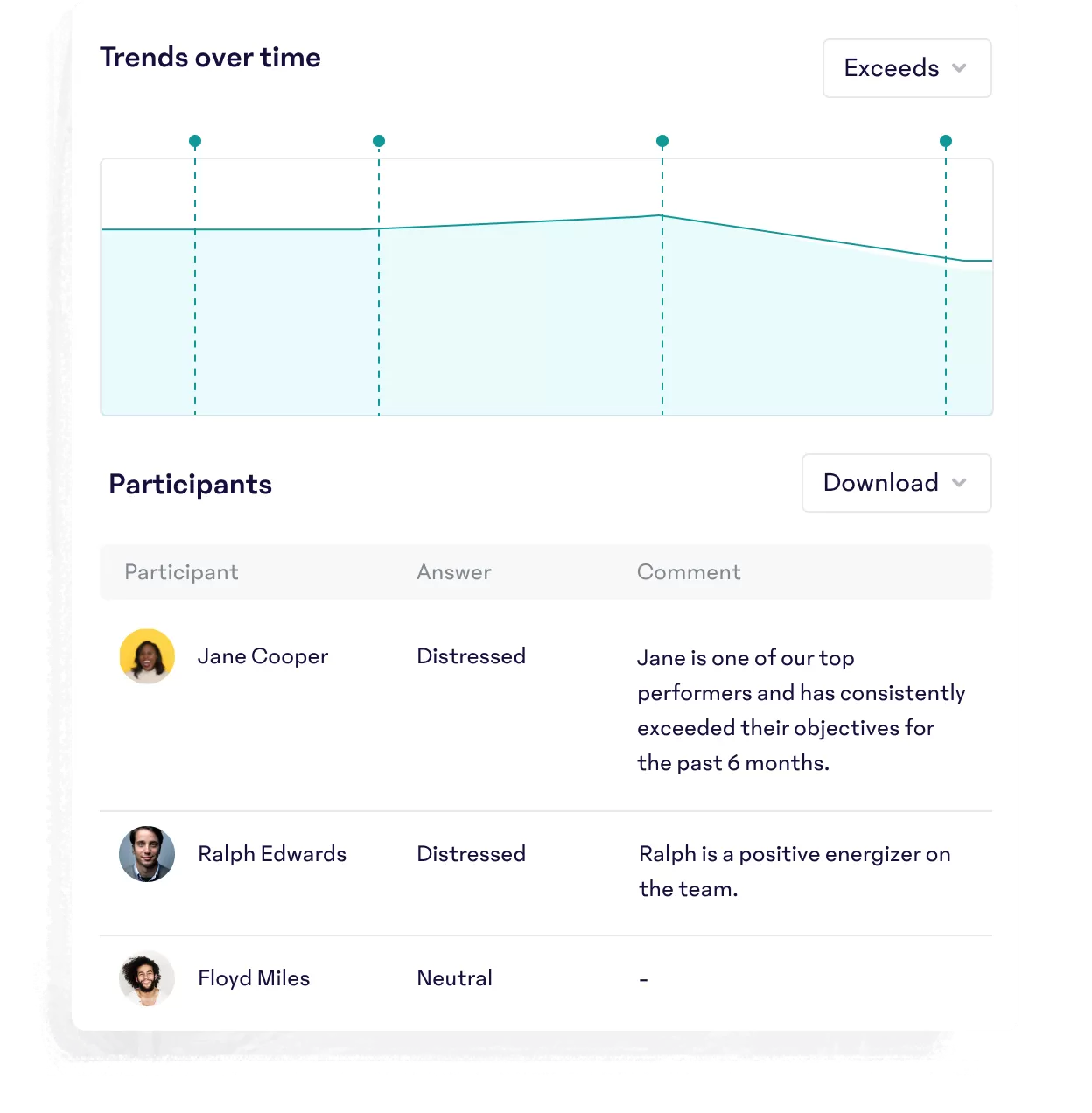 15five Pros
It allows for seamless feedback between teams and leaders.
It offers surveys to help you better understand your company's culture.
15five Cons
It's a little difficult to set up incremental goals if they're related to a larger goal.
15five does not offer or support HRIS integration.
Pricing
After a free trial, all paid subscriptions are billed annually. Each level increases the number of products available to users.
Engage: $4 per user/month
Perform: $8 per user/month
Focus: $8 per user/month
Total Platform: $14 per user/month
Standuply is ideal for distributed teams who need to keep organized and coordinated. The bot facilitates text-based stand-up meetings, allowing everyone to join, regardless of their location. Standuply can also make live meetings more efficient.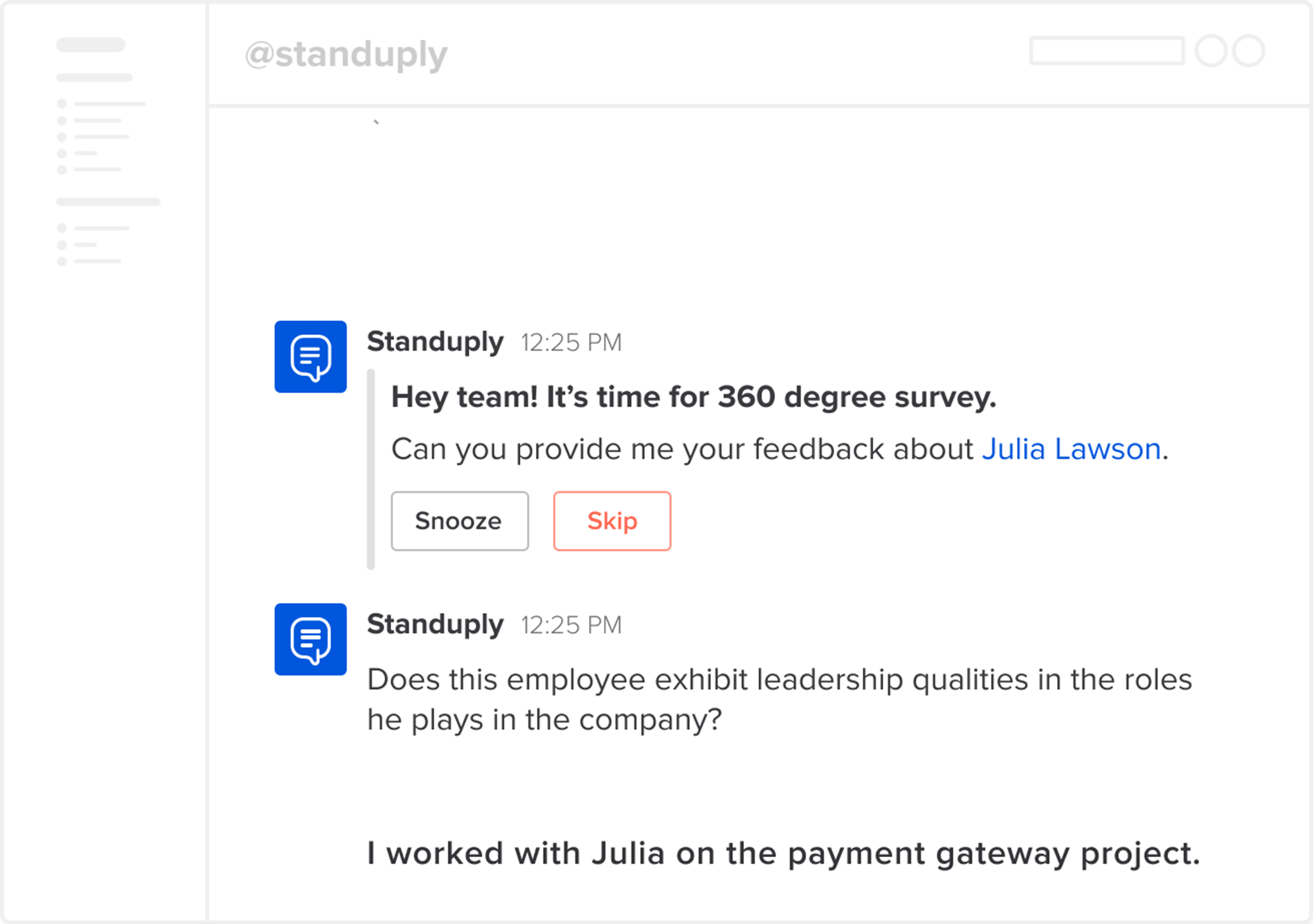 Standuply Pros
The Standup Bot for Slack assists remote teams in staying connected and on the same page while working remotely.
Ease of use and pre-defined report formats are available.
Standuply Cons
Standuply can get buggy at times.
Pages can take a long time to load.
Pricing
Standuply has four subscription levels, each increasing the number of features available to users. Team and Business levels both offer free trials.
Starter (free for up to 3 members): Basic features.
Team: $2.50 per user/month
Business: $4 per user/month
Enterprise: Custom pricing based on selected products.
Zira is a cloud-based workforce management software that leverages AI to automate policies, acquire data-driven insights, optimize schedules, and build staff incentive programs.
Shift scheduling, accessing policy information, and internal communication can all be done in Zira by managers and their staff members. This makes it simple to stay on the same page to help ensure everyone is fulfilling their responsibilities.
Zira Pros
The Zira support team is super responsive to feedback
Users have found the facial recognition system to be simple to use for clocking in and out.
Zira Cons
It doesn't sync with Quickbooks.
Pricing
Zira has a free trial and its paid subscription plans start from $4.
Jell is a multi-functional app that organizes daily standups and tracks check-ins. It can also double as a task management tool that enables you to align your team goals and monitor short- and long-term progress.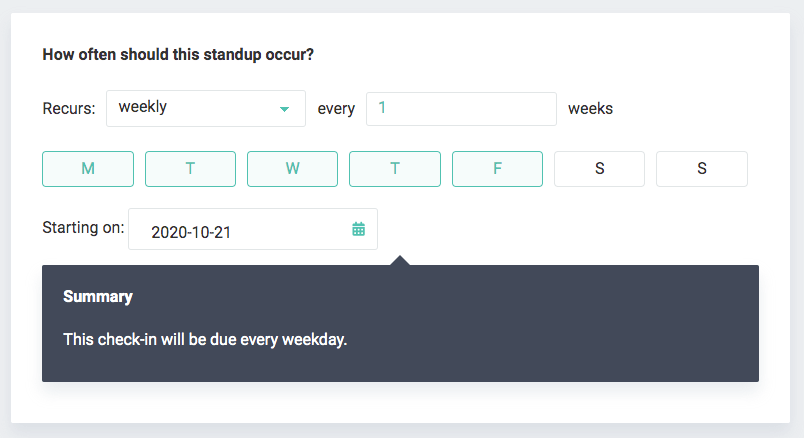 Jell Pros
Jell is simple and straightforward to use.
Jell integrates easily with Slack and Microsoft Teams.
Jell Cons
Text fields are limited.
Jell does not have a part-time option, so part-timers or those with schedules not like a typical work week need to adjust settings weekly.
Pricing
All subscriptions have a free trial period. Each increased level adds premium functions and options.
Starter: $4 per user/month
Plus: $8 per user/month
Enterprise: Customized pricing based on products purchased.
---
Conclusion
Although we have presented what we believe to be the top 10 best daily standup tools and software, Assembly stands out among the crowd with its user-friendly interface, free and affordable plans, excellent customer service, and satisfactory client feedback.
Join the large number of successful and satisfied professionals who use Assembly here and take advantage of its wide-range of features!
Try Our Free Tool
Automate routine workflows like employee recognition, 1:1s, daily standup & more - to save time!
Browse our Free Employee Recognition Guide
Get the foundational knowledge on creating an employee recognition program that boosts employee engagement and helps them feel valued.
Explore Guide