The Top 15 Best Daily Checklist Apps in 2022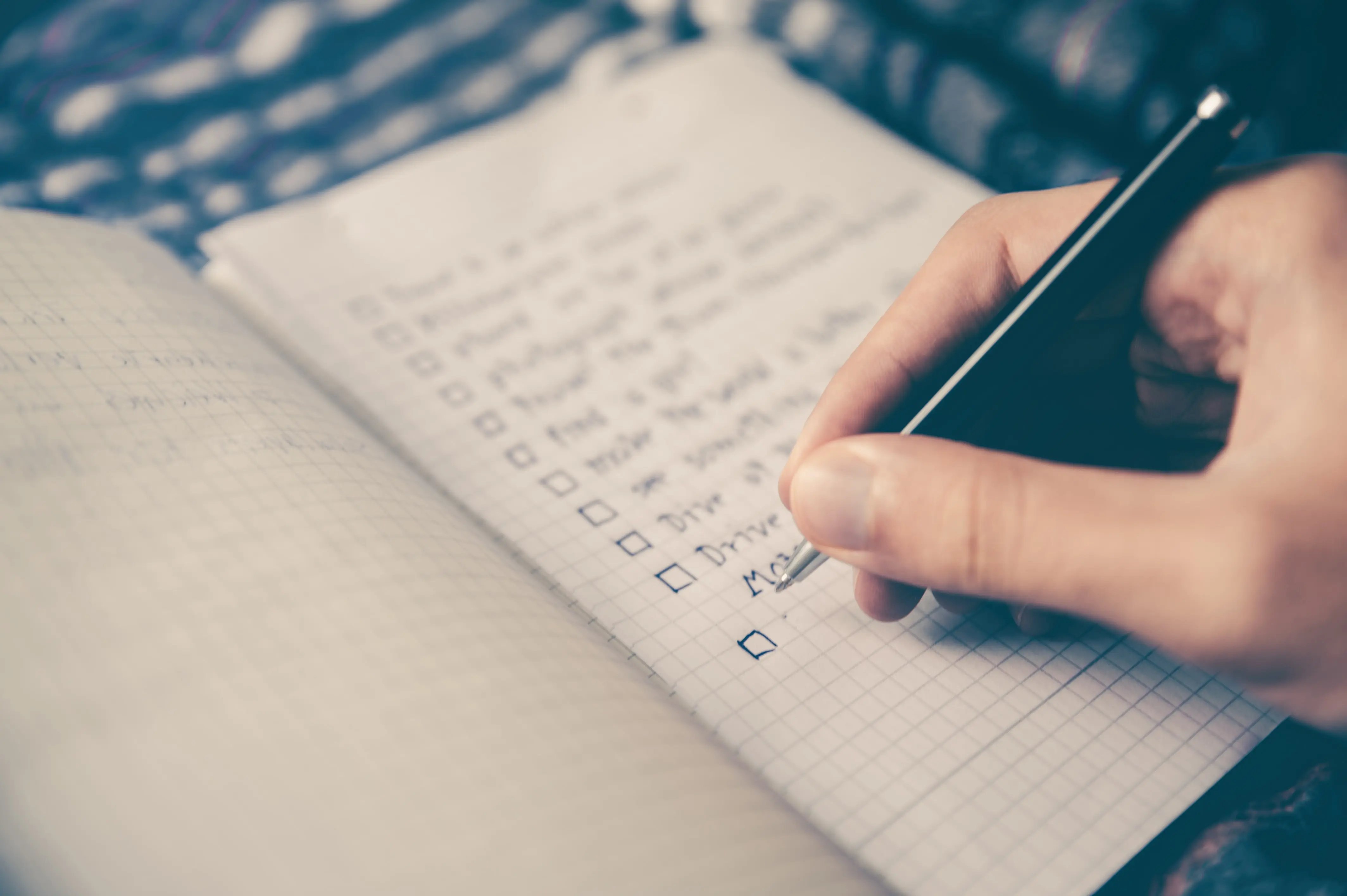 Katya Hill
Director of Marketing

April 24, 2022
You know what they say: Once you spend time, you can't get it back. Being efficient in our daily chores is critical to our success. Thankfully, there are numerous great apps with to-do lists to help you make things happen!
Whether you're looking for an app to keep track of your daily tasks, or one that will remind you when it's time to take a break, we've got you covered. We've curated a list of the top 15 best daily checklist apps for 2022.
Why Using a Checklist is Important
A checklist is a powerful tool that can help you stay organized and ensure that you don't forget any crucial steps when completing a task. It can also assist you in managing your time and avoiding mistakes.
Assembly | How to Create a Daily Agenda
15 of the Best Daily Checklist Apps for 2022
If you're looking for a daily checklist app to help you stay on top of your tasks or want to explore other options, look no further. Here are 15 of the best daily checklist apps for 2022:
Assembly is a work automation software that helps you plan, structure, and verify your company's processes. It also provides lots of useful workflows and videos to assist in your daily routine, both individually and as a team.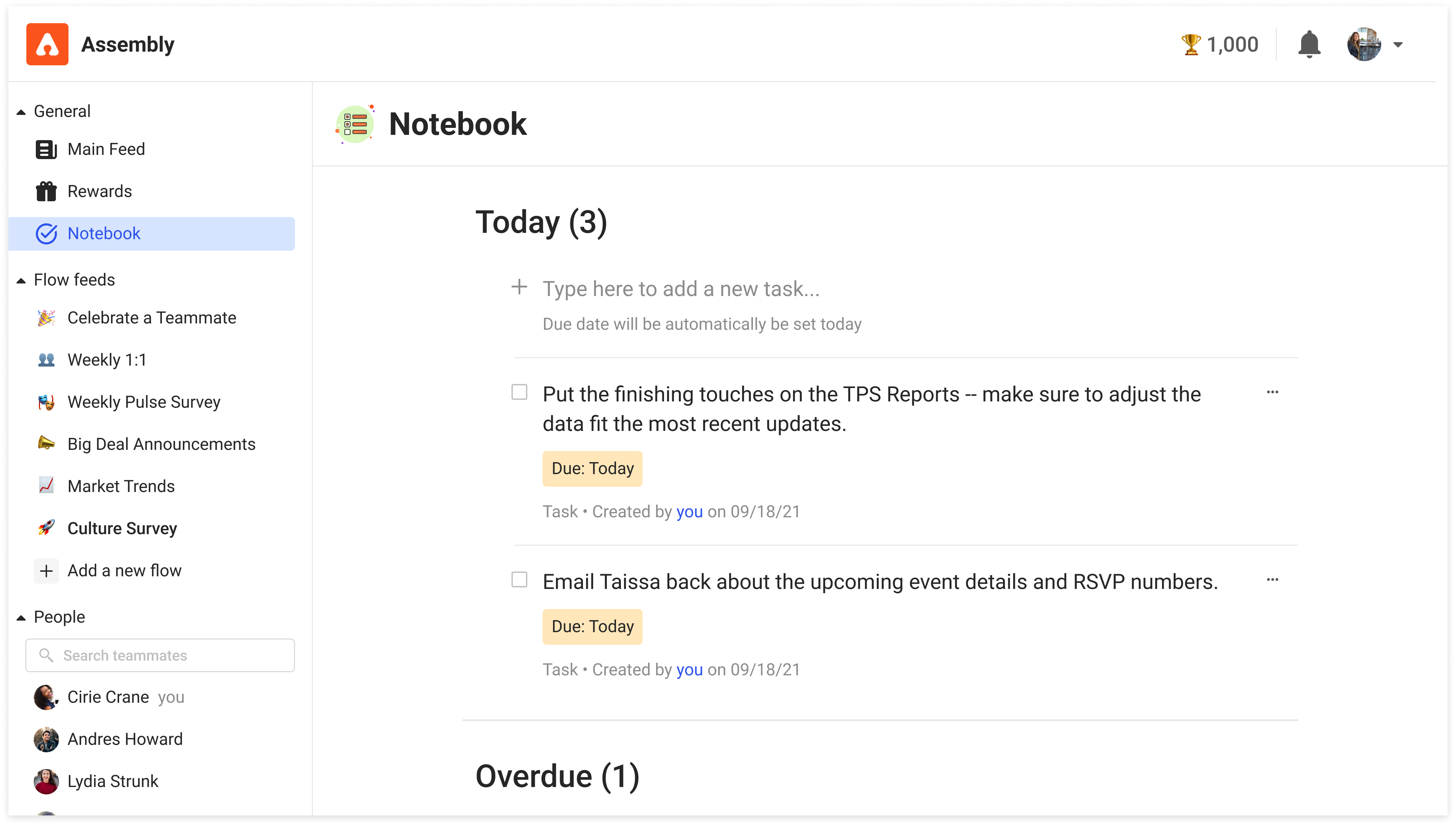 Assembly's Pros
Assembly's friendly and helpful staff make sure you get started with their tools quickly and efficiently. They can answer any questions about the process or advise how best to use the platform.
Assembly's contracts provide companies with longer-term agreements the certainty they need to grow. Twelve months is the minimum term and there are no extra charges.
Whether you're juggling work, family, or friends, it can help keep track of what needs to be done promptly with its intuitive interface that works across multiple platforms and devices.
Assembly's Cons
Some companies may prefer not to have a long-term commitment with a task software company.
Lots of different tools may be overwhelming to some.
Pricing
Assembly provides flexible payment plans and payment options. You can be billed monthly or annually (annual payments provide a discount).
Four subscription options are available:
1. Starter - This package is free for ten team members.
2. Lite (up to 50 members) - $3.50 billed monthly or $33.60 annually.
3. Standard (unlimited access) - $6.50 billed monthly or $54 annually.
4. Premium (unlimited access) - prices based on customization to meet your needs.


If you're looking for a daily checklist app to help you stay on top of your tasks or want to explore other options, look no further. Here are some of the 15 best daily checklist apps for 2022: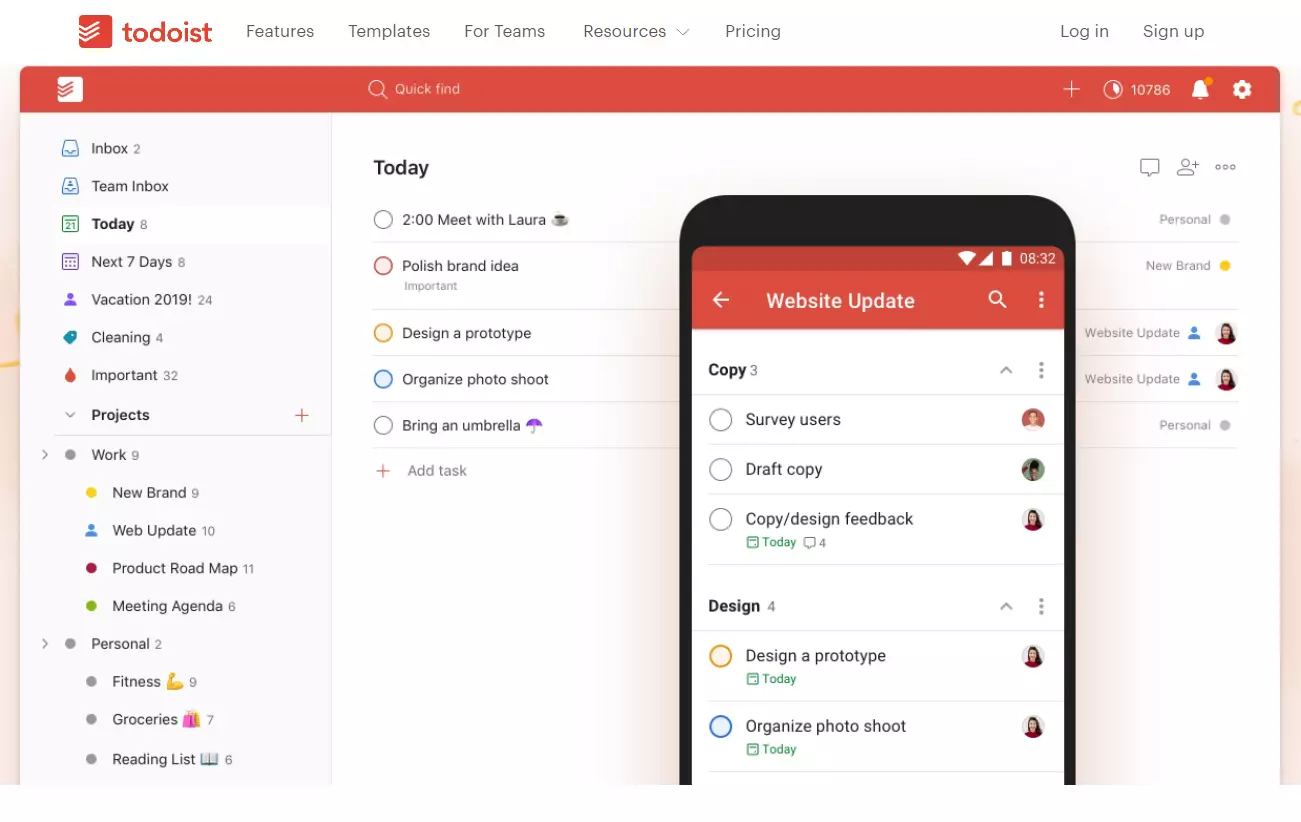 Todoist's Pros
The app is easy to use and helps you stay organized. It also works well with other productivity tools, helping you easily accomplish your tasks.
It offers various helpful features to execute your work effectively.
Todoist's Cons
Todoist can be overwhelming for some users due to its variety of features.
Todoist can be glitchy. The app has been known to crash or freeze occasionally. This can be frustrating and time-consuming.
Pricing
Todoist pricing comes in three different options.
1. Free: The free account includes five active projects and five collaborations per project.
2. Pro: $36 annual subscription, or $4 monthly.
3. Business account: $60 annual subscription, or $6 monthly.
Any.do is a task management app that helps users organize their to-dos and stay on top of their schedules.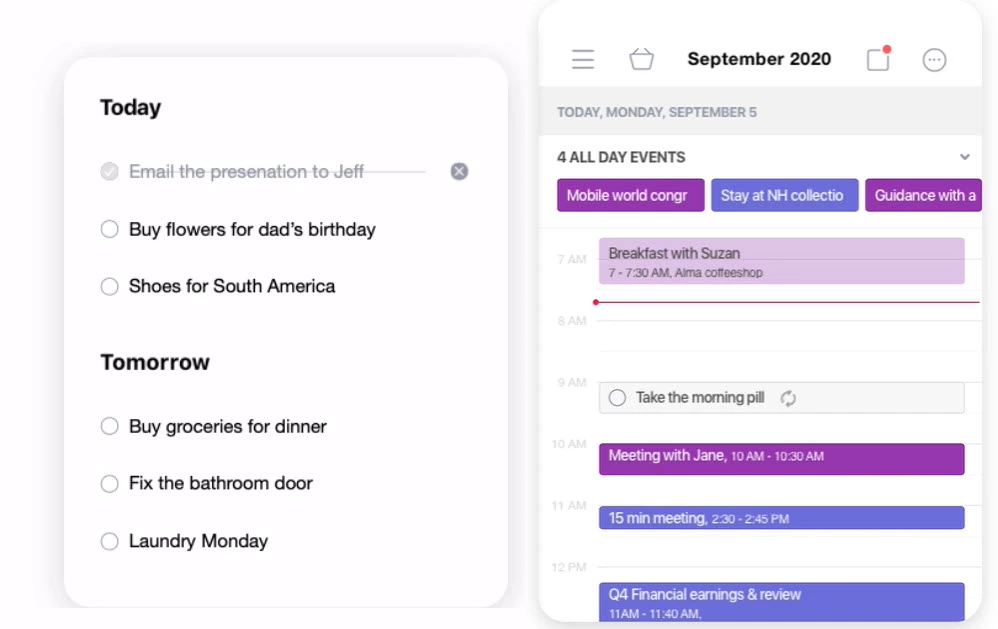 Any.do's Pros
Any.do is easy to use. The interface is clean and simple, and it's easy to add tasks and subtasks.
The reminders system is convenient – you can set a reminder for any task, and it will pop up on your phone or computer at the right time.
There are many different ways to customize Any.do so that it can fit your workflow.
Any.do's Cons
It can be challenging to monitor all your tasks if they are numerous.
At times, this software can be a little sluggish. For example, it's been known to crash on occasion.
Pricing
Any.do's pricing is based on a subscription model, which allows users to select the plan that best meets their needs. Any.do offers a 7-day free Premium trial and a 14-day free Premium business trial, but it does require a credit card. The plans are:

1. Basic plan: This plan is free for subscribers, but you do not have access to premium features.

2. Premium plan (individuals) and Team plans: $5.99 monthly, $26.94 for a 6-month subscription, $35.88 for an annual subscription.
Habitica is a website and app that helps you form good habits and encourages you to break the toxic ones. It's based on the idea that you're more likely to stick to your goals if you make your goals public.
Habitica lets you create a list of tasks, set deadlines for each one, and track your progress. You can also join or create a party of other Habitica users to help keep you accountable.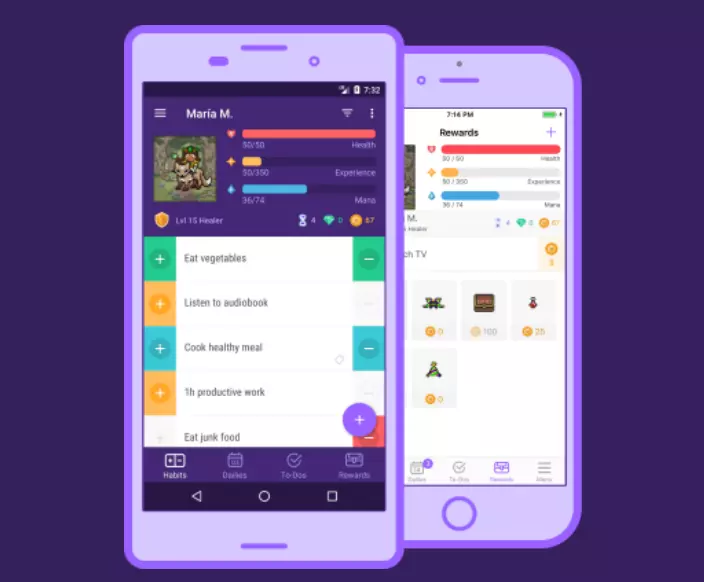 Habitica's Pros
Habitica has a library of pre-made habits to choose from if you're having trouble getting started.
The software may also be used to track your exercise and eating habits.
Habitica can also be a great motivator - it's satisfying to watch your gold and experience levels go up!
Habitica's Cons
Habitica can be addictive, so you need to be careful not to overuse it.
Assuming you've ever had a mental health issue – well, in that scenario, you should proceed with caution before using Habitica, as certain reports indicate that it can cause negative mental health effects in some people.
Pricing
You can join as an individual or create a group to manage a series of team tasks with a subscription.

1. Basic Subscription: Free, though you can purchase gems to enhance certain game-like features.

2. Group Monthly Subscription: $9 per month, plus $3 per group member
Fabulous is a self-care app that helps you to stay organized and get things done. It can help you make to-do lists, track your progress, and keep on track with your plan.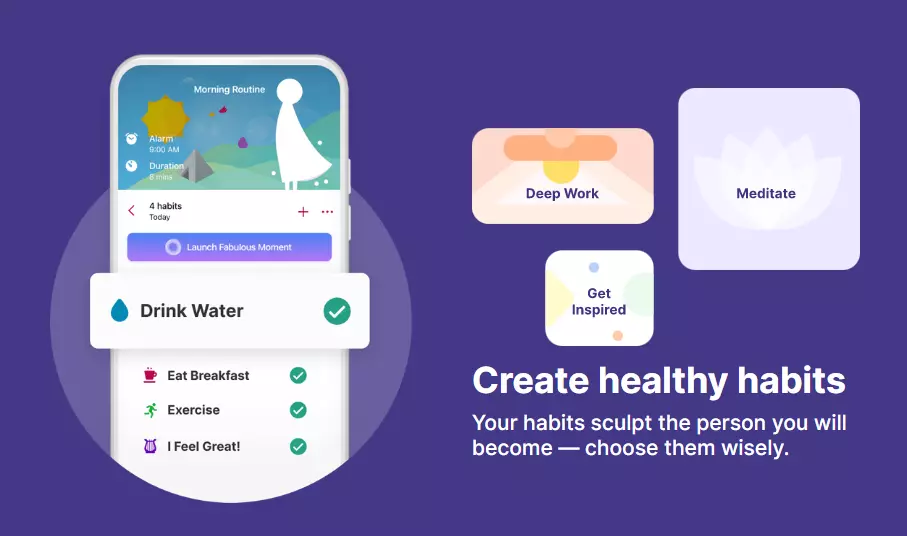 Fabulous's Pros
Fabulous is an app that can give you helpful tips and advice on managing your stress and improving your wellbeing.
The app is trustworthy. New features and activities are added to the app on a regular basis by the creators.
The app is easy to use. It's simple to find the features you need, and the layout is easy to navigate.
Fabulous's Cons
It's possible that the app could be addictive, and you could spend too much time using it
The app may contain inaccuracies or provide misleading information.
Pricing
Fabulous has two subscription options, which are:
1 Month of Endless Journeys: $14.99 per month and is billed monthly.
12 months of Unlimited Journeys: Includes a 7-day free trial and costs $5.83 monthly billing after trial.


Zenkit is a project for other applications, making it an easy management tool that can help you organize your work and collaborate with others. Zenkit also integrates with various other applications, making it easy to manage all of your projects in one place.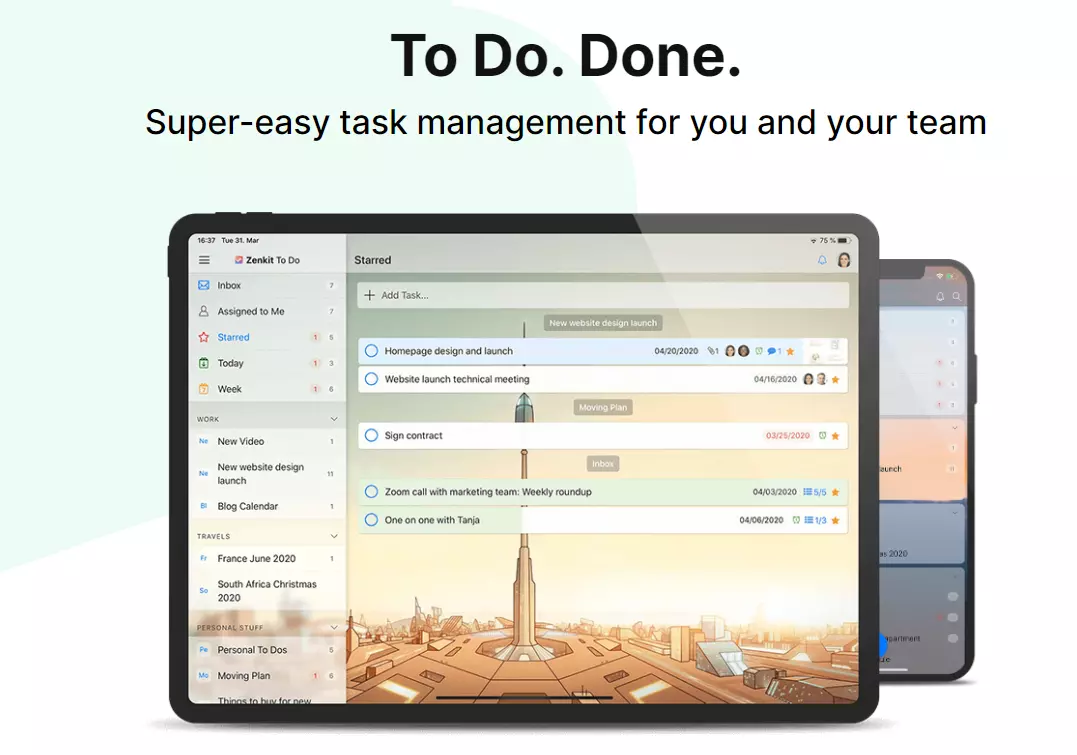 Zenkit To Do's Pros
You can easily create different lists for different purposes, such as work tasks, personal tasks, or groceries to buy.
Zenkit integrates well with other tools, such as Google Calendar, making it easy to keep track of all your vital deadlines and appointments.
Zenkit To Do's Cons
The interface is not always intuitive, and there are a lot of features that can be confusing at first.
Zenkit can be slow and lags at times.
Pricing
1. Free: The free plan provides access to all of Zenkit's products, but is limited in function.

2. Plus: Depending on which product you use, costs range from $4-$49 per user per month, or $3-$39 per user per month if paid annually.

3. Business: Depending on which product you use, costs range from $19-$99 per user per month, or $15-$79 per user per month if paid annually.

4. Enterprise: Costs are based on customizing the products to your needs.
Toodledo is a task management system that helps you track what you need to do. You can create tasks, reminders, and notes and then organize them by priority, date, or folder. Toodledo also offers a variety of features to help you stay on top of your tasks, including filters, calendars, and a notifications system.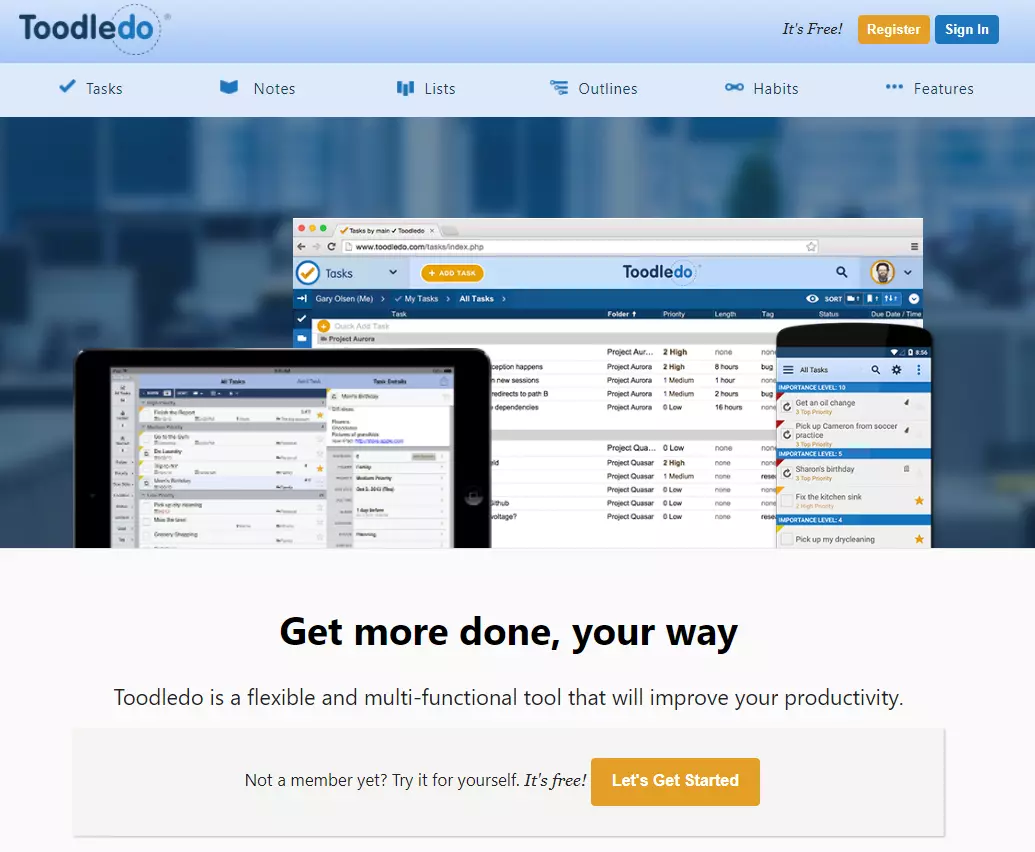 Toodledo's Pros
It's easy to set up and navigate, perfect for people of all ages and experience levels.
Toodledo is always up to date with the latest features and enhancements. The developers are constantly working to improve the app, so you can always count on getting the most out of it.
Toodledo is highly customizable. You can tailor it to fit your unique needs and preferences, which is excellent for people who want control over their productivity system.
Toodledo's Cons
Lack of flexibility – Toodledo is very rigid in terms of how you need to structure your tasks and projects.
Toodledo is a fairly basic productivity tool, so if you're looking for something with a lot of features, Toodledo may not be the best option.
Pricing
Toodledo has four subscription options and they are:

1. Free: Toodledo has offered a free subscription with limited tool usage.

2. Standard: $2.99 when billed yearly and $3.99 when billed monthly.

3. Plus: $4.99 when billed yearly and $5.99 when billed monthly.

4. Business: This plan is customized for users. Therefore, its pricing will be custom.









Taskwarrior is a productivity tool that helps you manage and follow up on your tasks. It features powerful commands that allow you to manage your tasks efficiently and easily. Taskwarrior also supports synchronization with multiple devices, so you can keep your tasks updated no matter where you are.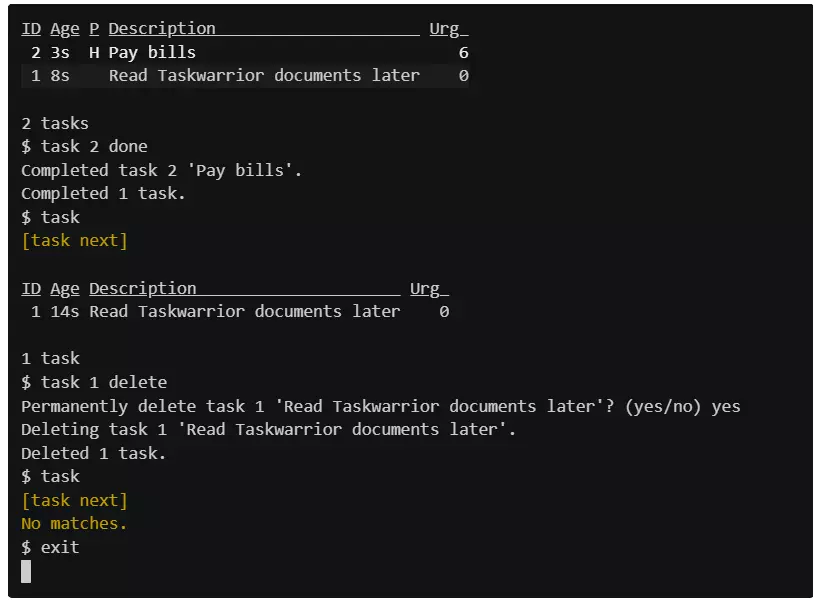 Taskwarrior's Pros
Taskwarrior is fast and efficient. It can easily handle large lists of tasks, and it runs quickly on all platforms.
Taskwarrior is versatile and customizable. You can configure it to meet your specific needs, and there are many plugins and add-ons available to extend its functionality.
Taskwarrior's Cons
Taskwarrior is a great To Do list manager, but its command-line interface can be cumbersome and tedious.
Pricing
It's a completely free and open-source program.









Remember The Milk is a time management program that allows you to keep track of your daily tasks. It's available on desktop and mobile devices and is easy to use.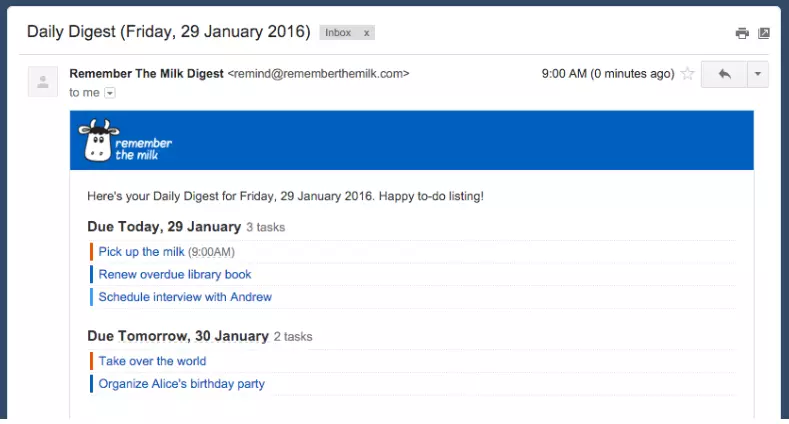 Remember the Milk's Pros
The program includes a built-in search option to help you easily discover the task you need.
It can be accessed anywhere, and the app works for various devices.
If you're ever stuck on what to do next, remember the milk has a helpful suggestion feature.
Remember the Milk's Cons
It can be challenging to find specific tasks or notes if you have a lot of them.
The pro subscription is quite pricey compared to other checklist tools.
Pricing
Remember The Milk has two versions. They are:1. Free: The free version has a cap on how much you can do with it.2. Pro (added features such as unlimited sharing and advanced sorting): $39.99 per year.


Google Keep is an organizing app created by Google. It can be used to make lists, record voice memos, and take notes, etc. You can sync your notes between devices and even share them with others.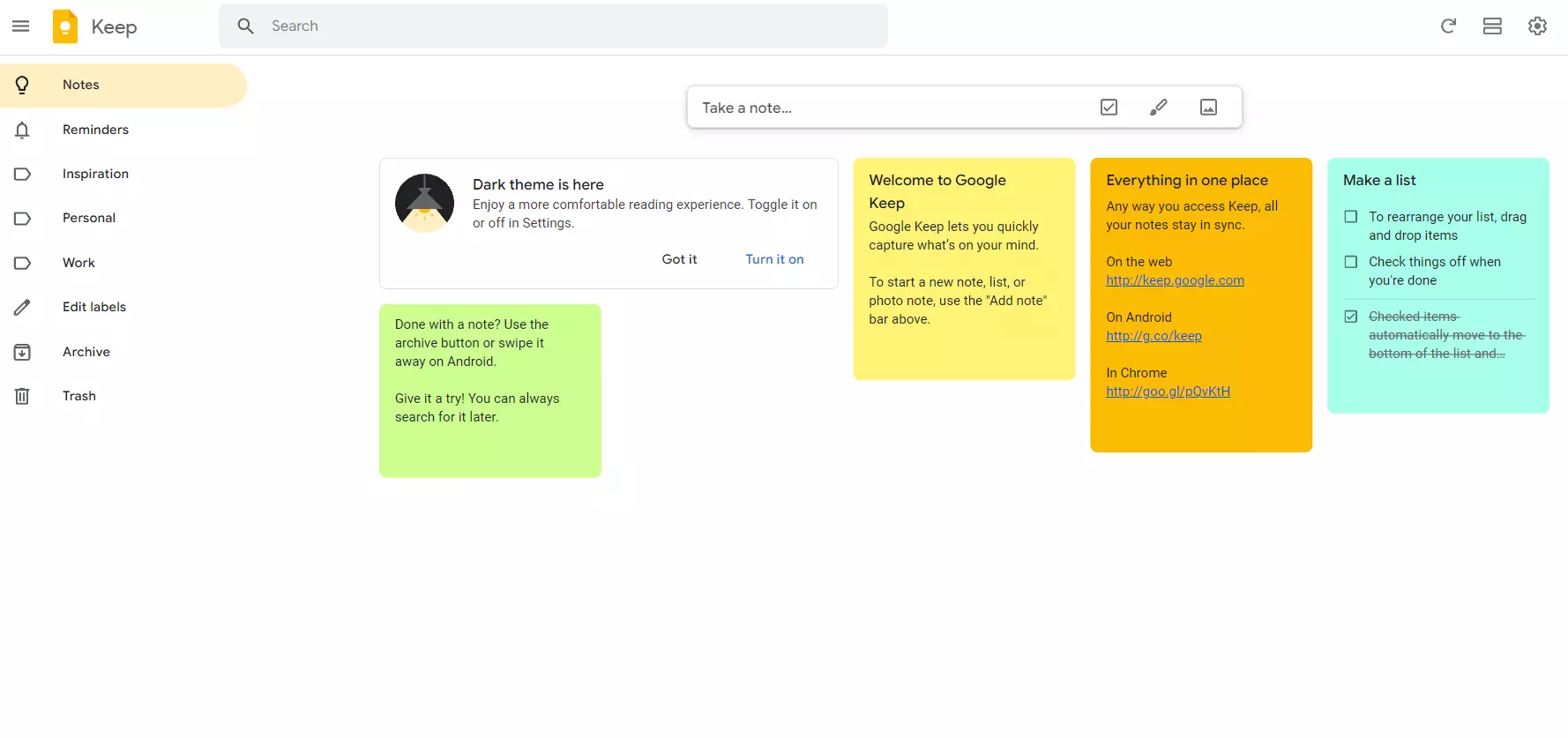 Google Keep's Pros
There are many great Keep templates available to get started quickly.
The app is very user-friendly and easy to use and you can color-code your notes for easy organization.
You can add attachments, like photos or PDFs, to your notes.
Google Keep's Cons
Notifications are not sent when tasks are added to shared lists, which can be frustrating if you wait for someone to add a task.
Google Keep can mine your data, which means that Google could potentially use your notes to target ads or other content to you.
Pricing
Google Keep is free, though it requires having a Google account.


What is Evernote and why should you use it? Evernote is a note-taking and organization app that runs in the cloud. You may use it to take notes, make to-do lists, and scan documents, among other things. Evernote can be accessed on any device, making it an excellent tool for staying organized while on the go.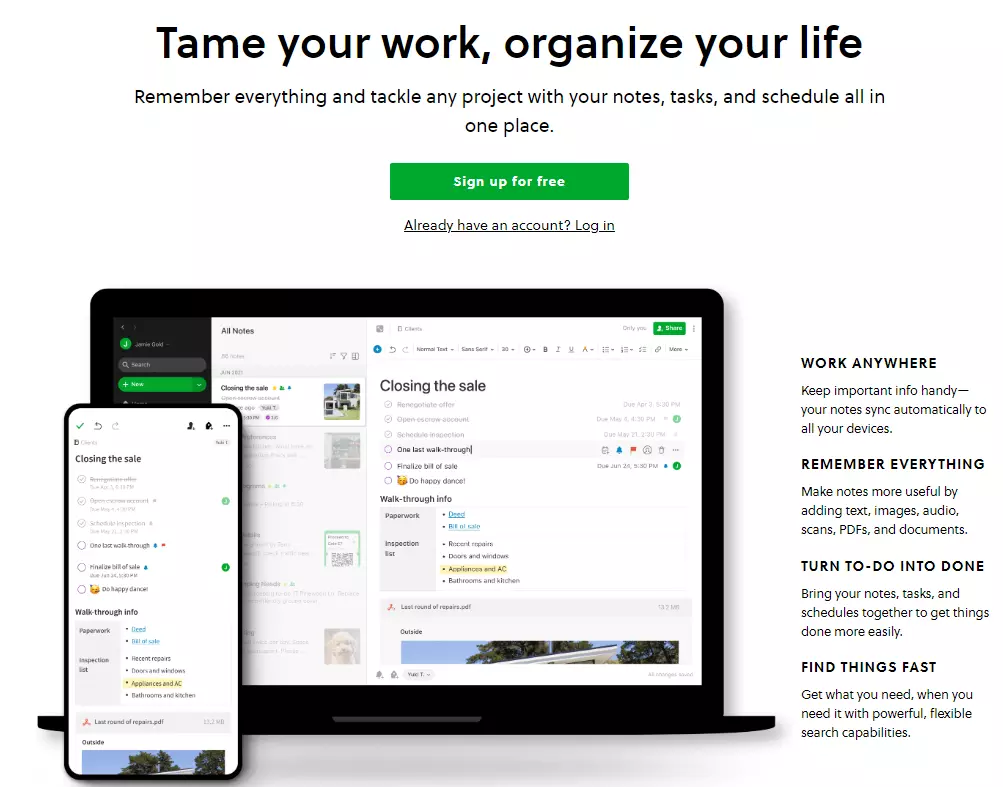 Evernote's Pros
The search feature is compelling and makes finding specific notes a breeze.
Evernote syncs throughout all of your devices, allowing you to access your notes from anywhere.
Evernote is packed with features that allow you to customize your notes to your needs.
Evernote's Cons
Evernote also has a restriction on how much data you may save for free.
The free version is pretty limited in terms of storage space and features. You'll need to upgrade to the paid version if you want to use Evernote for business.
Pricing
1. Free: It's free to use, but there's a cap on how much you can do with it.2. Personal: $7.99 per month.3. Professional: $9.99 per month.4. Evernote Teams: $14.99 per user per month.
Trello is a project management software that divides your projects into boards. On each board, you can make a list of cards that represent chores or ideas. You can then move the cards around to show their progress and add details and comments to them as needed.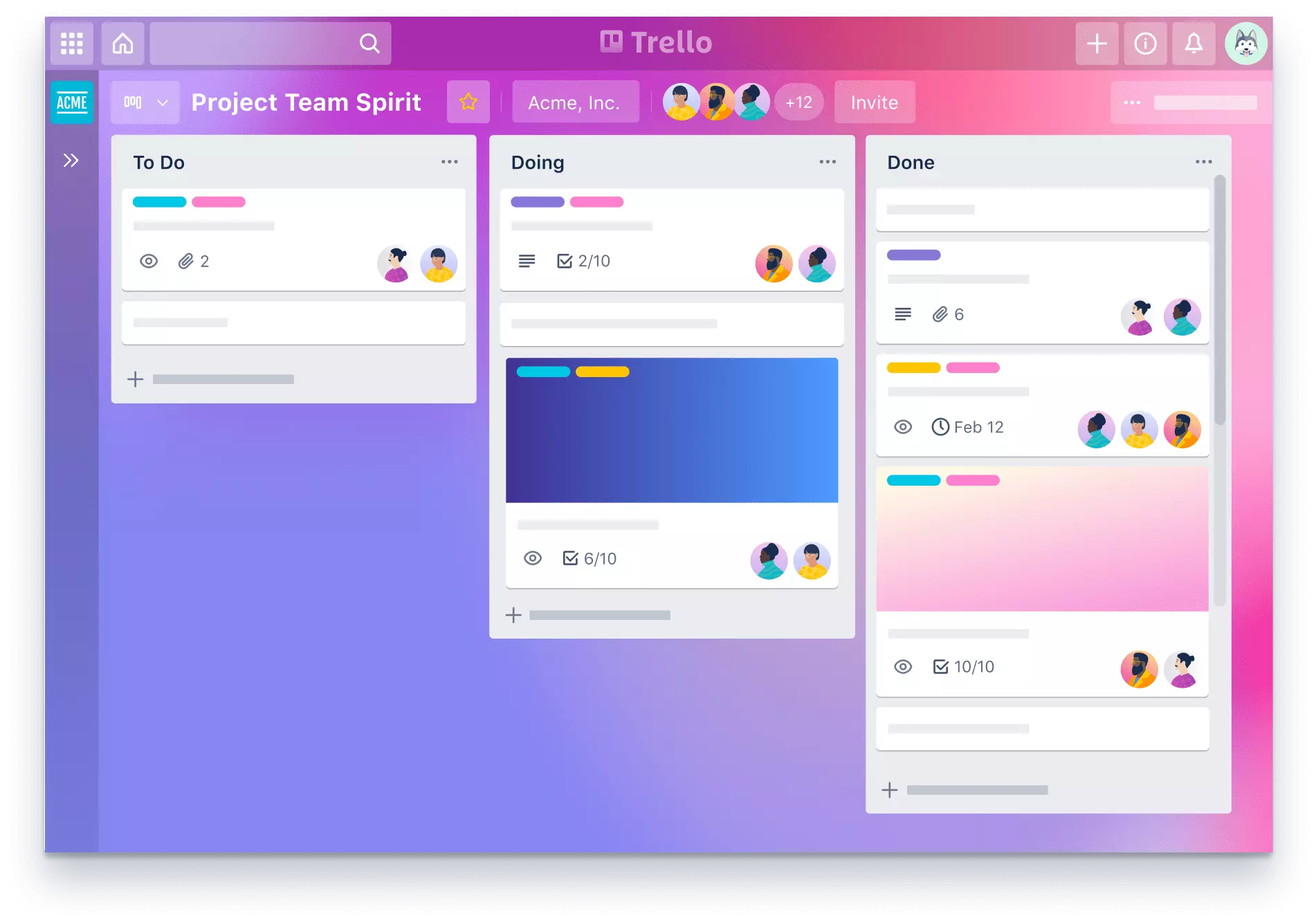 Trello's Pros
Trello boards and cards are visible to all team members, which helps keep everyone on track.
Trello has good support, including tutorials and a help center
Trello's Cons
One of these is that it requires an internet connection to work. Whenever you are in place with no network coverage, Trello will cease to work.
It is limited in terms of keyboard shortcuts and keyboard productivity usage.
Pricing
1. Free: This subscription is free, but with limited access.
2. Standard: $6 per month if billed monthly or $5 monthly if billed yearly.
3. Premium: $12.50 per month, if billed monthly or $10 monthly if billed yearly
4. Enterprise: $210.00 per year ($17.50 per user, monthly).
TickTick helps you keep track of your time and activities. It's a great way to stay organized and productive and help you stay on top of your work schedule. TickTick makes it easy to see how much time you have left on each task to plan your day accordingly.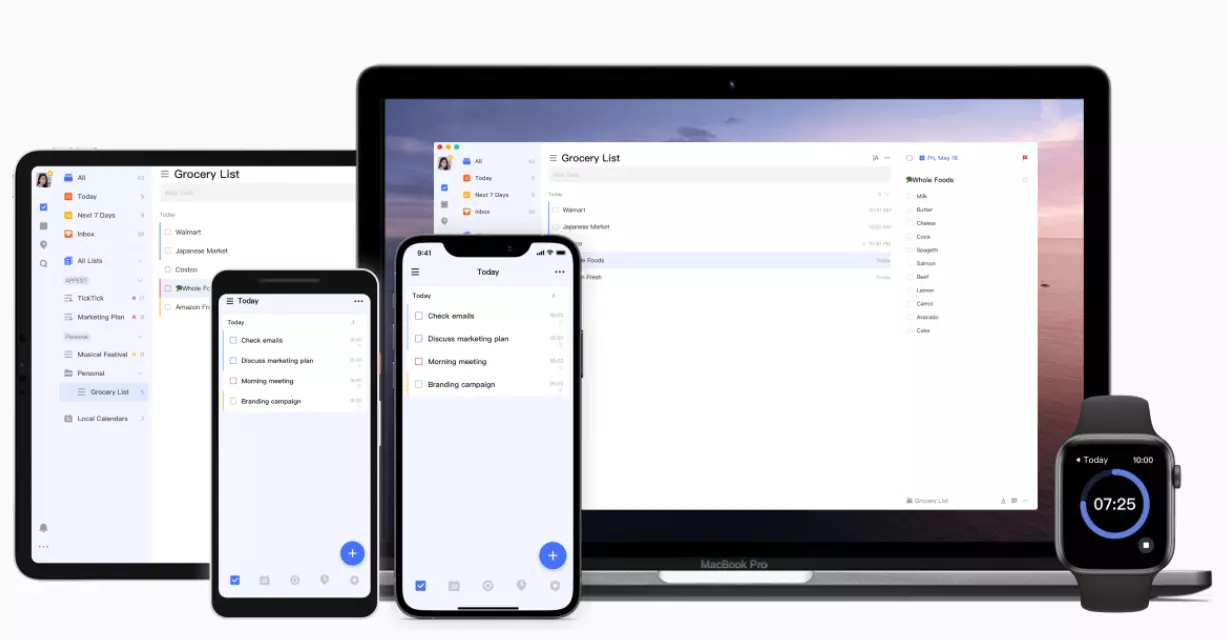 Tick Tick's Pros
It's simple to establish chores and to-do lists, and you can set yourself deadlines. Procrastination is less likely as a result of this.
The app has been tried and found to be useful. It's been used by millions of people worldwide, and it's been featured in magazines and on TV.
Tick Tick's Cons
One downside of TickTick is that there is no email notification option for task reminders. This can be inconvenient, as you may not always have the app open to see the reminder.
Daily tasks that are due show up on the same day, instead of separately. This can be confusing.
Pricing
TickTick has a free version with limited functions and a premium version which costs $27.99 yearly.
Omnifocus is a task management tool that aids in the completion of tasks. It helps you create, manage and execute tasks, tracks your progress, and stay composed. Omnifocus can be used for personal or professional purposes, and it's available on both iOS and Android devices.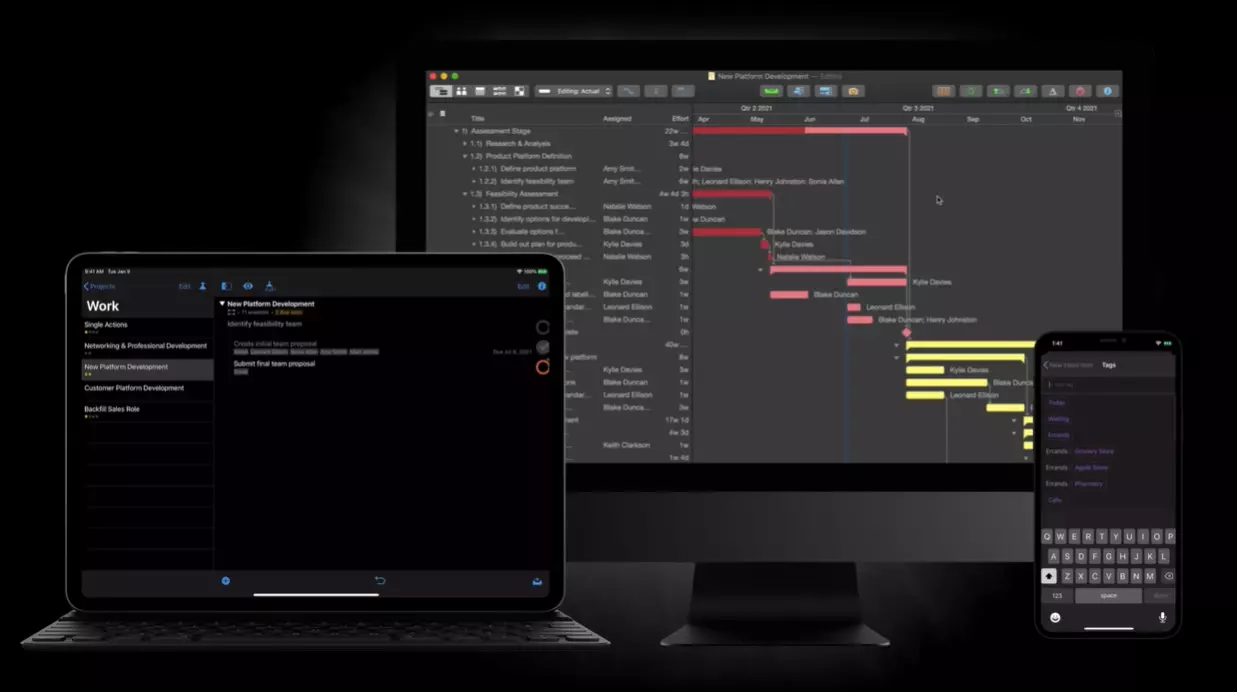 OmniFocus' Pros
With OmniFocus, you can customize your devices to fit your needs. For example, you can decide what information to track and how to track it.
The app also has various features that make it easy to stay on top of your tasks, such as email integrations and notifications.
OmniFocus' Cons
It can be pretty expensive, especially if you need the mobile app versions.
It can also be quite complex and challenging to learn how to use, which could mean that it takes you some time to speed up.
Pricing
OmniFocus is a powerful to-do list manager with a wide range of features. It has a cross-platform subscription, which includes the following:
● OmniFocus Pro for Mac
● OmniFocus Pro for iOS
● OmniFocus Pro for the Web
They offer a huge range of subscription options for different products, outlined on their site.
Basecamp 3 is a cloud-based project management tool that helps businesses manage their projects more effectively. It offers a variety of features, such as to-do lists, file sharing, messaging, and time tracking, that allow businesses to collaborate easily with their team members.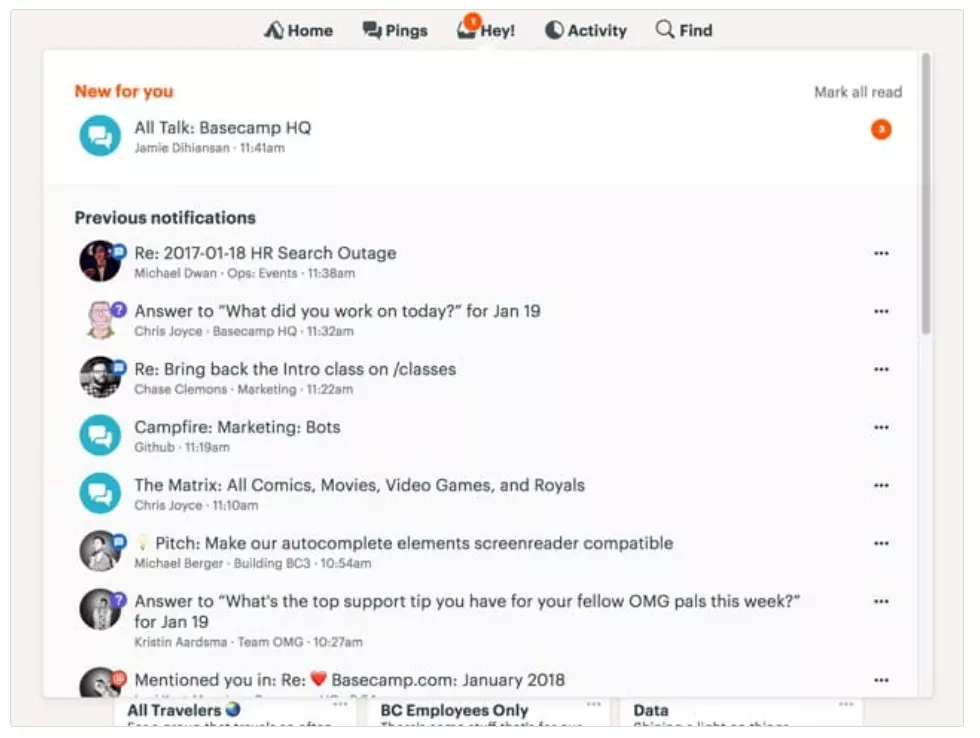 Basecamp's Pros
Basecamp has a solid track record of reliability and uptime.
Basecamp 3 has many great features, like task management, file sharing, and communications tools.
Basecamp's Cons
The interface can be a bit overwhelming for beginners.
The pricing plan can be a bit pricey for small businesses and freelancers.
Pricing
Basecamp 3 pricing is available in two editions:
1. Personal: This is free to use with limited access.
2. Business: $99 per month (comes with a free 30 day trial).
---
Conclusion
Deciding which of the many checklist applications on the market is best for you might be difficult. Ask the following questions when choosing a checklist app:
What's your budget?

What features are you looking for?

How user-friendly do you want the app to be?

What level of customization do you need?
These factors are essential in choosing a checklist tool that will serve you well in the long run. Unfortunately, not many of the available checklist software will meet all your needs.
Assembly, on the other hand, checks all the boxes and then some. It offers affordable and flexible plans, excellent customer service, availability among several devices, and lots more.
Conclusion
Whether you're a business professional, student, or stay-at-home mom, a checklist app can help make your day more productive.

Have you used a checklist app before? What are some of the advantages you've noticed? If you've never tried one or are looking for a better option, try Assembly for free. Just click

HERE

to get started today.
Try Our Free Tool
Automate routine workflows like employee recognition, 1:1s, daily standup & more - to save time!
Browse our Free Employee Recognition Guide
Get the foundational knowledge on creating an employee recognition program that boosts employee engagement and helps them feel valued.
Explore Guide